Our live chat agents are
available to assist you
Mon-Fri 9am-5pm EST.

Click to chat wherever
you see this chat button!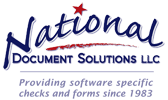 Toll Free: 844.562.4900
Customer Service: 844.562.4900


PLEASE CALL US AT 844.562.4900 TO PLACE YOUR ORDER!!
Welcome to Deneb System Supplies
Customer Service: 844.562.4900
Sandra Davis: 888.273.1229


National Document Solutions LLC offers much more than DENEB checks and forms. We provide office supplies, promotional products, toner cartridges, tax forms, letterhead, business cards and company brochures to help you run your business. Call for pricing and product information.

Your dedicated team of professionals is here to serve you and will take the extra time and effort to make sure that you are 100% satisfied. National Document Solutions LLC is a leading single source supplier of diverse business products and services for the business-to-business market across North America. We are leaders in the industry for implementing e-commerce solutions.